Sunday, July 9 at 4 PM: The Schrade-James Family, Cello, Piano, Solo, Duo
The family of Schrades and Jameses brings Sevenars close to its half-century milestone (coming up in 2018 – stay tuned!). They have attracted a loyal following of audiences and press, whether at Lincoln Center, Wigmore Hall, Carnegie Hall, throughout the US, Canada, New Zealand, France, Italy, or Fiji, in chamber, solo, and orchestral appearances, and on radio, television, and numerous highly praised recordings. The performing members now include four pianists, David James, Randolph Schrade, Rorianne Schrade, and Lynelle James, and cellist Christopher James. As individuals they have garnered dozens of awards and accolades and as a family were the first listed on Steinway's global artists roster (as well as individual listings). Their "agile, intensely musical performances" (N.Y. Times) reflect their joy of making music as a family through the decades. This program will include works by Bach, Paganini, Brahms, Liszt, Tchaikovsky, Still, Massenet, Gershwin-Grainger, and more!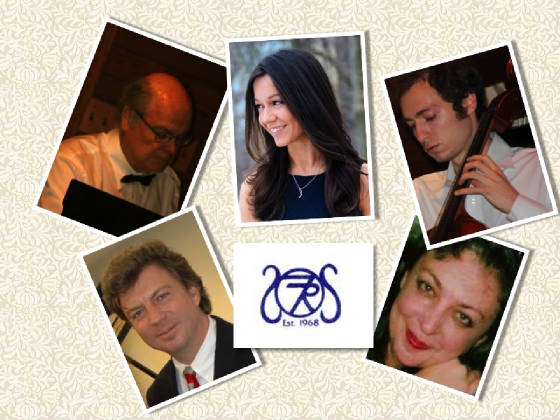 Sunday, July 16 at 4 PM: Emmanuel Feldman, cello and Joy Cline Phinney, piano
Cellist Emmanuel Feldman and pianist Joy Cline Phinney, brilliant musicians individually, are known together through recitals and recordings on Albany and Delos labels. Mr. Feldman has been called "an outstanding cellist and truly dedicated artist" by composer John Williams and praised by Gramophone for "communicative urgency with tonal splendor." Soloist with leading orchestras, performer in Europe, the US, and on radio and a dozen recordings, he is also a renowned teacher at the New England Conservatory. Pianist Joy Cline Phinney, one of the busiest chamber musicians today, collaborates regularly with members of the Boston Symphony Orchestra, New York Philharmonic, Cleveland Orchestra, and many others. She holds Bachelor and Master degrees from Juilliard and a doctorate from Peabody. Her recent season included appearances on both coasts and with the New York Philharmonic's Merkin Hall Chamber Music Series. Their program will include Beethoven, Brahms, Gershwin, and the great American composer, George Walker.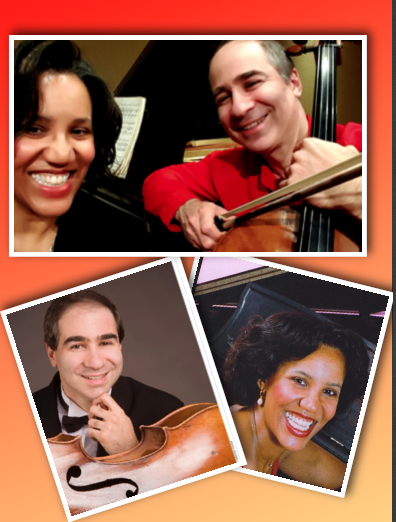 Sunday, July 23rd at 4 PM: Alexis Walls, violin, and Lynelle James, piano
Alexis Walls achieved recognition as soloist with orchestra at the Kennedy Center while still a teenager at Juilliard's Pre-College. Founder of the Kende Trio with her sisters, she performed internationally, notably for Pope John Paul II. Currently Director of the World Youth Alliance Chamber Orchestra in New York and founder of the Manhattan String Orchestra, she has led these exciting ensembles at prominent venues internationally, including the United Nations. Lynelle James, a "truly fine musician" (Boston Musical Intelligencer) has been lauded by the press since age 8, playing in New York and with the Christchurch Symphony Orchestra in NZ. She has performed in Weill Hall at Carnegie Hall, Lincoln Center, Steinway Hall, and in festivals and halls across the United States, New Zealand, Canada, and Italy, along with lectures and master classes. Her debut CD (Blue Griffin label) awaits release. These two stellar friends unite in Brahms, Fauré, and more!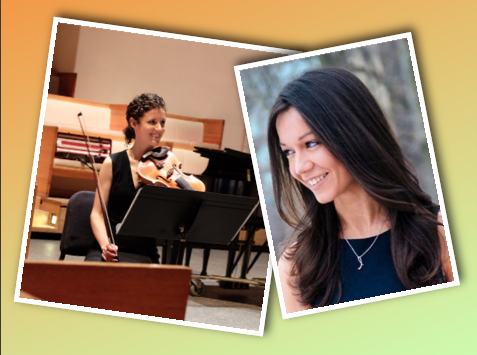 Sunday, July 30 at 4 PM: Greenwood Chamber Players, flute and strings
The Greenwood Chamber Players first delighted audiences at Sevenars in 2015 as a tribute to beloved festival member Robelyn Schrade-James who reveled in her chamber experiences at the Greenwood Music Camp, Cummington's nationally-known musical gem. It has become annual! These stunning players, including faculty and friends of Greenwood, triumphed with their first-rate playing as well as their winning personalities. We are so thrilled to have them back! The musicians include leading players of the nation's concert stages, led by dazzling young flutist Christina Jennings ("an extraordinary musician" American Record Guide) and exceptionally gifted violist Matthew Dane. Returning with them this year, and well-known to Massachusetts audiences, are brilliant New Bedford concertmaster Jesse Holstein and amazing, versatile Smith College cellist Volcy Pelletier. These vibrant and energetic players will thrill you with an inspired program of trios and quartets, with the centerpiece being Beethoven's incomparable Serenade, Op. 25 for flute and strings.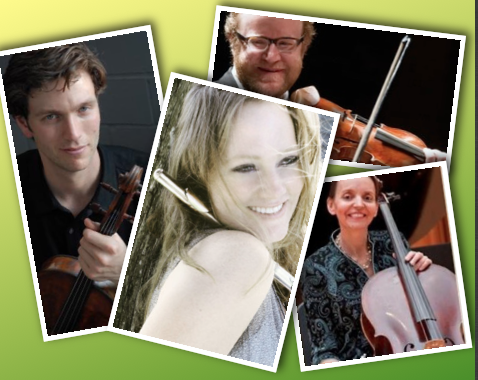 Sunday, August 6th, at 4 PM: Jerry Noble and Friends!
A favorite - yet always refreshed - tradition, this concert features the inimitable Clifton "Jerry" Noble, Jr. with the talents of legendary jazz clarinetist Bob Sparkman and dynamic young classical cellist Christopher James. Bridging styles and generations, Mr. Noble, nationally sought-after as both composer and pianist is unmatched. His more than twenty years of jazz collaborations with clarinet wizard Bob Sparkman have become a local treasure, resulting in five immensely popular CD recordings. Mr. Sparkman developed his golden phrasing playing with The Jazzmen, The Bourbon Street Six, the Gotham Jazz Band, and Fats Waller's trumpeter Herman Autry (among others). Christopher James, alumnus of Tanglewood, Soundfest, and Bard festivals, returns from a season playing in four orchestras in New York, with performances at Symphony Space, Lincoln Center, and Weill Hall. He will perform one of the greatest jewels of the classical repertoire, Elgar's Concerto, Op. 85, in Elgar's own piano-cello version. The second half will include improvisations on bossa novas and familiar tunes.
As a bonus, the group will be joined by Mr. Noble's wife, Kara Noble on bass guitar in various selections, and by cellist Anup Kumar Biswas, known in the UK both as a cellist and as founder and director of the Mathiesen School in Kolkata, India, will join in two special compositions, one by Mr. Biswas and one by Rabindranath Tagore. In the Tagore piece, Mr. Biswas will be joined by his son Satyajit on mrindangam (ancient Indian percussion instrument) and daughter Geetanjali (vocals).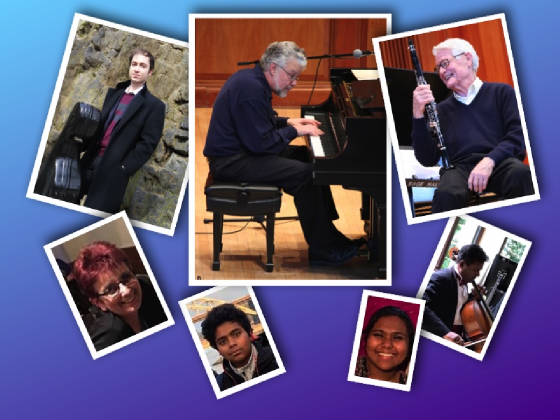 Sunday, August 13th at 4PM: Rorianne Schrade, piano
Returning after a five-year hiatus from solo recitals necessitated by family matters, Rorianne plays a preview of her New York recital, September 19, Weill Hall at Carnegie Hall. In response to her 2011 recital in London's Wigmore Hall, Rorianne was praised for "mastery of one aspect of keyboard playing after another" (Max Harrison, Musical Opinion) and for "An Outstanding Evening" (Headline, Music and Vision Daily) by Bill Newman, who likened her to the great György Cziffra and to Claudio Arrau "at the height of his performing powers." Her October 2011 All-Liszt (200th Anniversary) recital at Weill Hall elicited a review (RobertaOnTheArts.com) stating that "Rorianne Schrade is one of the most dynamic, impassioned pianists I've seen in live performance in years." Rorianne's 2016-17 season included teaching, collaborations with colleagues, and concerto performances at Steinway Hall in NY. Her program will include Mozart, Beethoven, Pärt, Liadov, Scriabin, Glazunov, Kapustin, Rachmaninoff, and Tchaikovsky-Feinberg.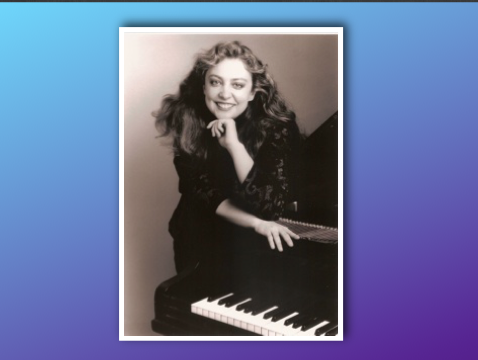 Admission is by suggested donation (suggested $20 per person), by cash or check at the door.
No tickets or reservations are required or accepted.
Complimentary refreshments are offered at intermission.
All music lovers welcome, though we ask that children (and adults) be able to sit quietly so as not to disturb others.
Note: No cellphones or recording devices are to be turned on at concerts, out of respect to performers' rights and in the spirit of live music.
We look forward to seeing you there!